About Planetware


In the autumn of 1978 the Swiss musicologist Hans Cousto, sharing an apartment in Munich with artists and musicians, discovered the octave law as the formula for calculating the planetary tones.
I am Fritz Dobretzberger and was living in this apartment as well and, excited over the ingenuity of the discovery, I wanted to make the frequencies be heard and felt through tuning forks. Musicians and – to our surprise – alternative practitioners were the first to show an interest in planetary tones.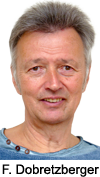 Since the color spectrum covers an octave, it was a logical consequence to use the octave to establish the color tones. Together with Johannes Paul, I developed colormusic and wrote the book "Farbmusik – Leitfaden für eine kombinierte Musik- und Farbenlehre" (ColorMusic - A Guide to Combined Music and Colour Theory).
The continued growing interest led me to found PLANETWARE in autumn 1990. My aim was to inform those interested in the theory and ideas, and to supply them with instruments for practical use. PLANETWARE works closely with Hans Cousto as well as with many other artists, researchers, producers, alternative practitioners, and others who apply the universal octave law in a practical manner.
Cousto's formula is exceptional because it brings together the holistic relationships in the complete spectrum of vibrations in one system.
To a harmonious collaboration in tune with our planetary existence!
Fritz Dobretzberger